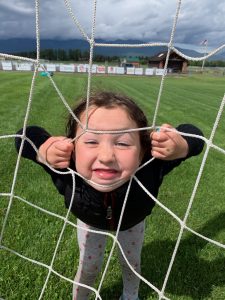 Our History
Project Whitefish Kids, Inc. is a Montana-based nonprofit corporation. It was formed in 1997 to address a pressing problem for North Valley kids - the lack of baseball, softball, and soccer fields in Whitefish.
Because the city lacked the necessary resources, PWK was founded as a fundraising organization to construct the Smith Field Yourth Sports Complex.  Through hard work and dedication, PWK has raised $1.5 million to construct the park, which was officially completed in 2003.
Since inception, the fields have proudly housed local soccer, lacrosse, baseball and softball teams, at both the club and high school level.  The complex aslo serves as the only park serving over 450 families in the south end of Whitefish.
PWK is now responsible for all aspects of park maintenance and all fundraising to support Smith Fields.  PWK relies heavily on a volunteer force to operate, maintain, and develop the complex, and all expenses are covered through private funding.
PWK thanks all their generough donors - past and present - for making Smith Fields possible.
Smith Field Youth Sports Complex
The Smith Field Youth Sports Complex is the heart and soul of Project Whitefish Kids.  The fields serve six hundred North Valley families and are the home of the Flathead Rapids Soccer Club, Whitefish Cal Ripken Little League Baseball, the Flathead Lacrosse Club, and the Whitefish Softball Association.  They also serve as home fields for the high school varsity and JV soccer and softball programs.
Just a few things Smith Fields offers our community:
Fifty-five acres for kids to play.
Eight soccer fields/lacrosse pitches.
Five baseball fields.
Four softball fields.
One playground.
Two concessions stands.
Restrooms.
Maintenance facilities.
Parking (for approximately four hundred cars).